Watch the Video Tutorial
Read the Text!
Before we get started, you need to make sure you've read the client's text. You need to know what you're working with.
As you read, annotate the text, indicating typos and irregularities in the text. Note the hierarchy, too. What's an H1, an H2, bullet lists, body copy, etc… Take notes about possible images and where they would go. This will help your image search.
Create a Project Folder Structure
Client Content
Raw Images
Articles
Process Client's Text
When the client gives us a text file for a publication, we need to ensure it's formatted so we can easily style it in InDesign.

To this end, we will place the provided word document in a simple default InDesign document. Don't worry about the format. Just make it letter pages. We'll use InDesign's handy Find/Change dialogue to simplify the document. We'll then copy/paste each article into its own plain text file. That will get us clean text to use in our layout.
Text Clean-Up
Create a test InDesign document to get an idea of the length of the text.

You'll need to know your final document dimensions to make this accurate.
File > Place text into simple InDesign document which has Primary Text Frames.
If the text is poured into an InDesign document unformatted, it takes about 7 letter-sized pages.

Turn on Hidden Characters. Type > Show Hidden Characters or

Shift-⌘-i

.
Remove duplicate paragraph breaks with Find/Change.
Delete client instructions from text.
Delete

Non-Breaking Spaces

from the document. They come from the Word doc. They're not necessary.
Delete duplicate and unnecessary space characters.
Change case of all story headlines from upper case to title case in InDesign.
Break Word Doc Into Articles
If we import the formatted word document directly into InDesign, it's going to bring a lot of bad stuff along with it. We want to place clean, un-formatted text from separate plain-text files.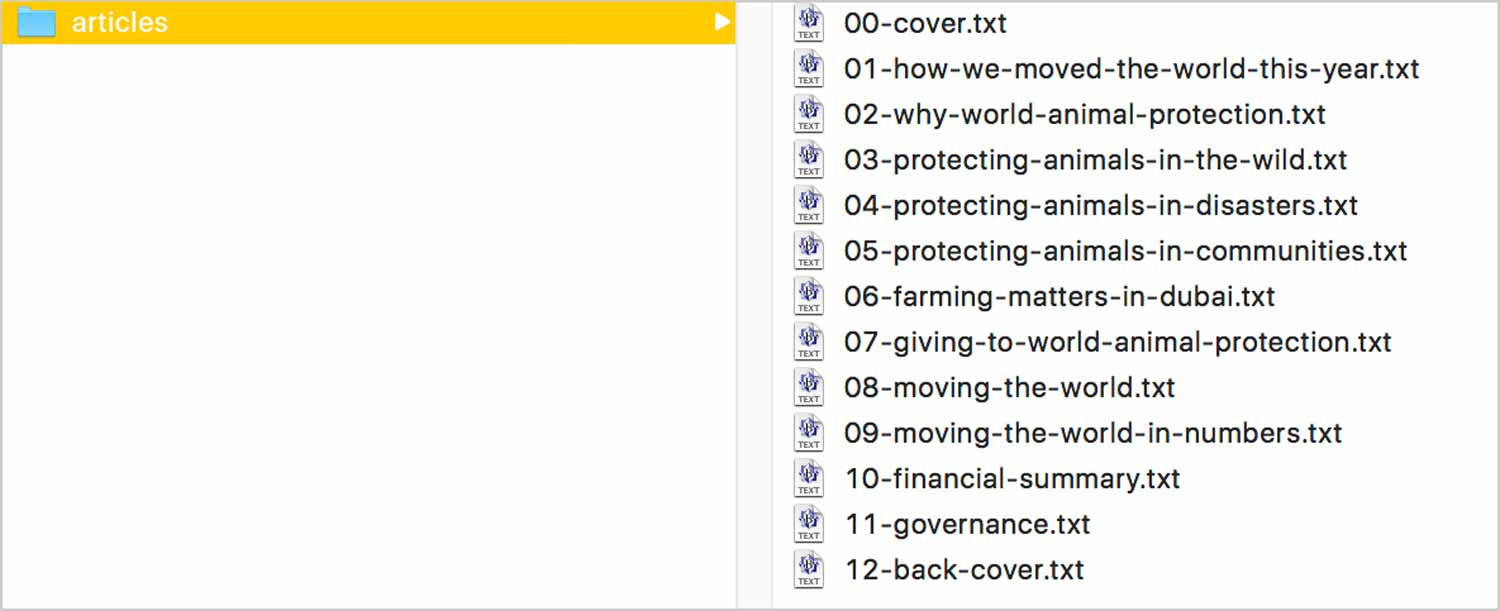 Create a

Articles

folder for them.
Copy one article at a time, in order, into new separate text files.
Use the application you use for coding HTML to do this. That will ensure there's no styling in the text — bold, italics, etc… all gone. We'll apply our own styles in InDesign for more consistency.
Name the files by their headlines.
I suggest using the

Make Web Friendly

Automator action we created a few weeks back to tame these file names.
Number them by the order in the Word doc.
Create Paragraph Styles
We aren't at all ready to design our document. What we can do, though, is assign paragraph styles to the text based only on the hierarchy of the text in the original Word document.
Inventory text hierarchy in Word doc.
Create corresponding text styles.

This isn't about the appearance of the text. It's about it's place in the hierarchy. Don't worry about using the final font choice. We'll style this in any sans and serif fonts. You'll change them once you've made font choices in Typography class.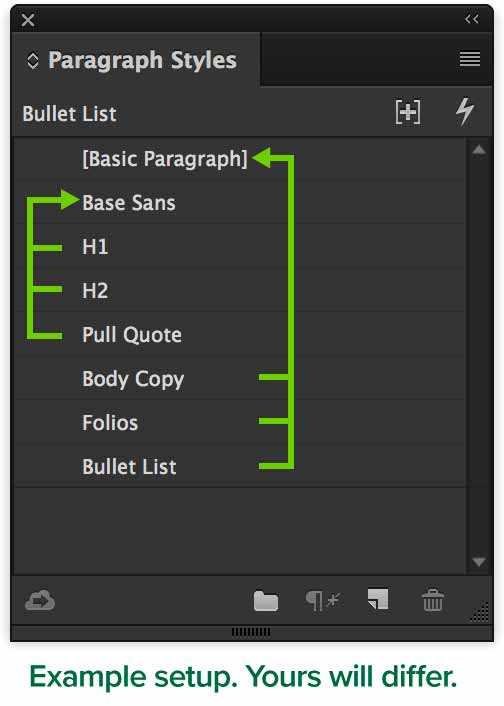 My Basic Paragraph style has been changed to the serif typeface I'll be using throughout the document. The Base Sans has been changed to the sans-serif family.
You can see in the image above how all the styles with the sans-serif font are based on Base Sans. All the styles with a serif face are based on Basic Paragraph.
These are about the minimum number of styles you'll have. There will likely be a few more. Limit the number of styles to the fewest possible. You'll likely create a character style for emphasis (bold or italic).
Make sure you have Optical Margin Alignment turned on in InDesign. Go Window > Type & Tables > Story, then check the box.
Master Pages
Master pages are going to make your document more consistent. They're like a template for your pages.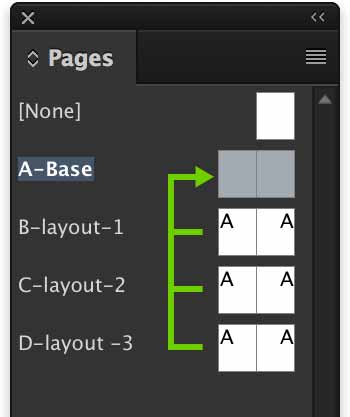 Create

Base-Master

for master grid and page numbers.
Create a new master page for each different page layout you have in your document. Base them all on your base master so they You shouldn't have too many — maybe 3 to 5 of them. If you have more than that, you're document pages are all going to look too different. This is one of the major design decisions you're going to make for this project. Remember, you can apply one of these masters to a page, then tweak it locally to fit the content.
Masters Based on Sketches
These are examples of sketches of four-column grids. You should be drawing some like this to scale on paper, with varying weight markers. Don't draw random sketches. Base them on the actual conent for your specific publication.
Even with so little detail on the page, these still represent a clear plan for a page design. Keep your sketches for future use. You can't have too many of these in your inventory. For this specific document, you could have 3 to 5 different ones. Too many will cause a lack of consistency in your document.
The best way to get your sketches from paper to InDesign is to draw them to scale. To do so, print master pages with guides.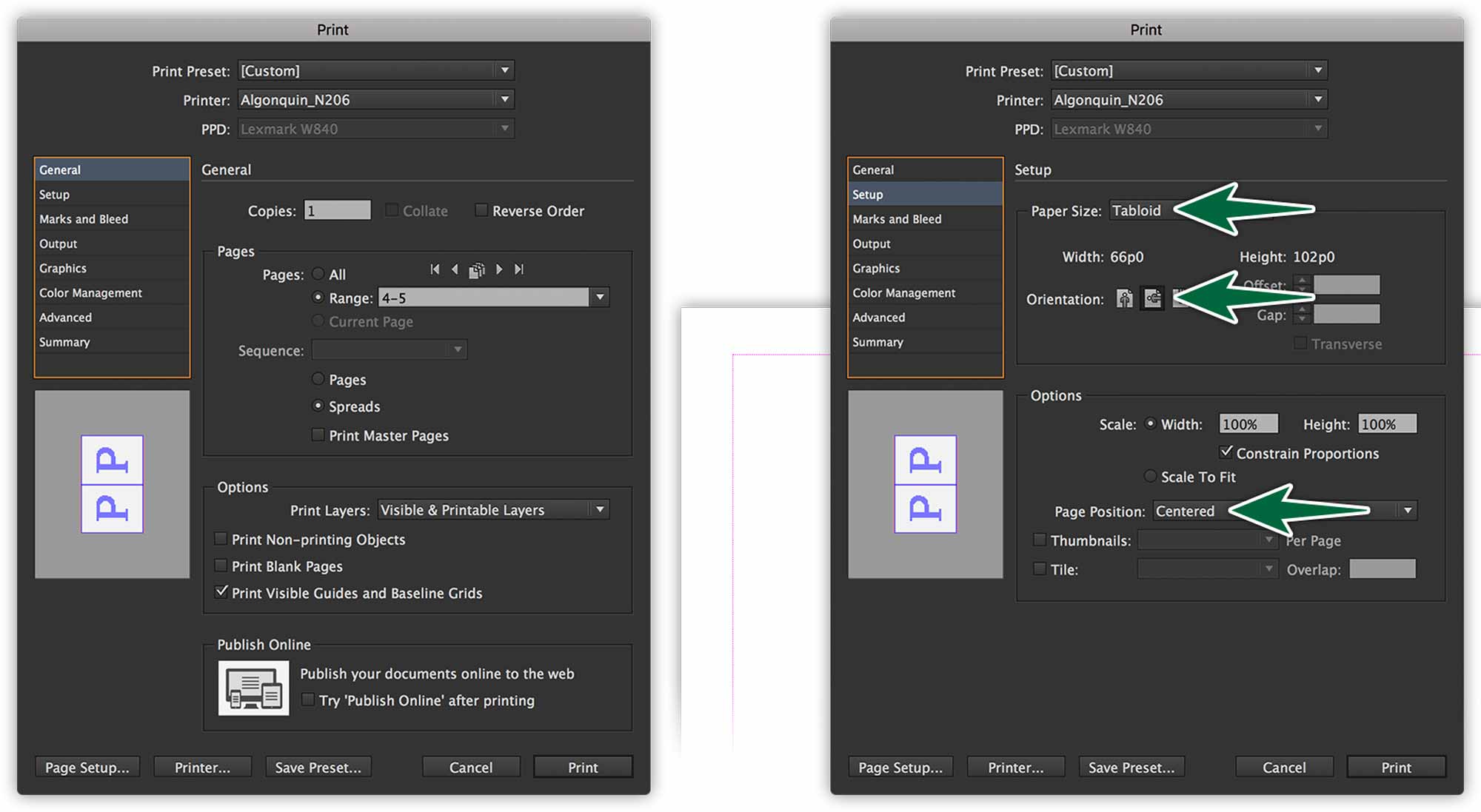 Once you're done drawing your sketches on the printed grid, they'll be easier to transpose onto the InDesign master pages. So now your job is to take your sketches and replicate each one on its own master page. Remember, a left-hand master can only be applied to a left-hand document page.
Apply masters to document pages by going to the document page, then option-click on the name of the master you wish to apply. This is all done in the Pages panel.
The master pages end up being a starting point for your pages. You can edit the content on the document pages after the fact.
Make sure you create primary text frames on your masters. They need to be threaded on the masters so they become threaded on the document pages.
Page Grids
Margins
Setting the margins for your document requires careful consideration. How will your document be handled? How thick will it be? If you use larger margins, this will make your document longer.
If you're creating a saddle-stitched document, you'll want to create slightly larger margins on the outside to leave yourself some excess to trim off due to creep. See Creep below.
The Anatomy of a Page Grid
Below you see the parts of the page grid.
Binding & Production
You have a choice to have this saddle stitch stapled or bound with loose sheets.
Imposition
If you choose to saddle-stitch your document, you'll need to watch this tutorial which will guide you through creating your booklet in InDesign.
If you choose to saddle-stitch staple your document, you'll need to do imposition. Don't let this stop you. It's not difficult. This is Adobe's support page for InDesign's booklet making feature.
This method requires that the total number of pages is divisible by four. 4, 8, 12, 16, 20, 24, etc…
No imposition
If you choose to do some type of loose sheet binding, like a spiral binding, you won't have to do imposition. This method requires that the number of pages in your document be divisble by two. 2, 4, 6, 8, 10, etc…
Your Cover
No matter the binding method, when your cover is printed on a different stock than the content of the document, it's printed separately.
Create a new 2 page document starting on page 2 with the same dimensions as the inside document. There will likely be nothing on the inside front and pack pages, so it's not necessary to have them in our document.
Creep
If you're saddle-stitching your document, the thickness of the document causes the inner-most pages to stick out of the right edge. This effect is called creep. The document's right-side dimensions gradually increases.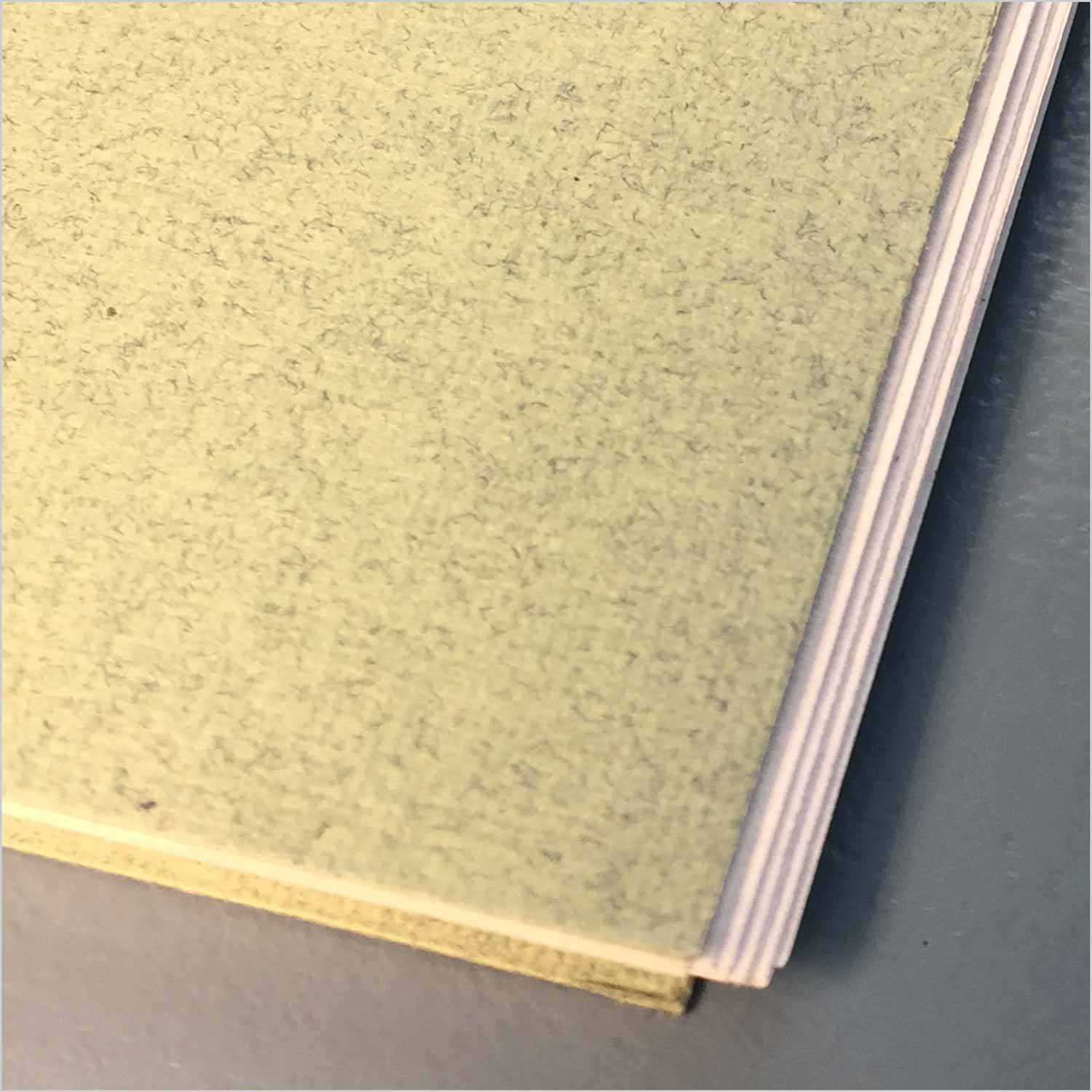 Create margins that have a bit of excess that you can trim with a ruler & X-Acto™ once you're done.
Images
You'll need to spend some time doing a stock image search. I suggest UnSplash as a good source. There's mention of some companies in the text. If you wish to get their logos in vector format, I suggest using Brands of the World to download them.
After you've read the content, make a list of ideas for photos you'd like. Go to UnSplash to find them. Download them all to your Raw Images folder.